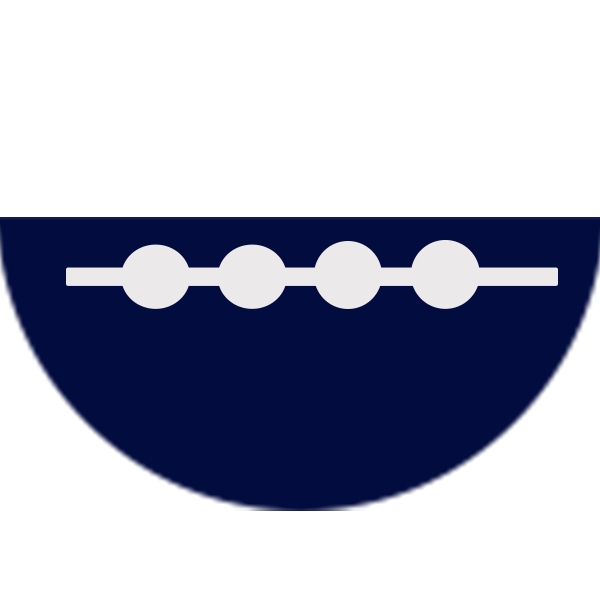 Orthodontic
تاریخ: ۲۳ آذر ۱۳۹۹ dr etemadifar

Orthodontics is simply the science of moving teeth. People with jaw problems, curvature and crooked teeth, interdental spaces, Tightness ...
If the patient has these problems, our suggested treatment is orthodontics. In orthodontics, the bracket is attached to the teeth and then the teeth are moved under certain forces. In orthodontics, the shape of the jaw and the arrangement of the teeth are corrected.
what is Orthodontic braces
Braces are used to straighten, heal, and align teeth, helping them look better, and often helping them work better together. They are either made of metal or plastic, and some of the braces used are virtually invisible.
Why might I need a brace?
دندانپزشکان ممکن است بریس را بدلایل زیر پیشنهاد دهند:
If you would like your smile to look better
To straighten and improve the alignment of your teethdecay and gum disease
To improve your bite and tooth function
If you have jaw problems caused by mis-aligned teeth
To re-align teeth to reduce the risk tooth decay and gum disease
what is the benefit for me?
درمان ارتودنسی (بریس ها) باعث تراز و هماهنگی دندان ها شده و لبخند شما را بهتر و زیباتر خواهد کرد. همچنین می تواند فواصل دندانی را بهبود ببخشد – روشی که دندان های شما در کنار هم قرار می گیرند ، باعث می شود آنها عملکرد بهتری داشته باشند و مشکلات مفصل فک کمتر ایجاد شود. تمیز نگه داشتن دندان ها نیز آسان تر است و این می تواند خطر پوسیدگی دندان و بیماری لثه را کاهش دهد.
Benefits of Orthodontics:
Orthodontic treatment plays an important role in maintaining good dental hygiene.
In irregular teeth, the shape of the face is affected and the teeth wear out quickly and may even change a person's breathing or speech.
Orthodontists help you to have a beautiful and healthy face and smile by creating balance and harmony between your teeth and your face. smile .
Having an attractive smile increases a person's self-confidence and can be effective in improving a person's quality of life.
دندان‌های مرتب راحت‌تر مسواک زده می‌شوند و در نتیجه احتمال پوسیدگی دندان‌ها یا ابتلا به بیماری‌های لثه و استخوان‌های محافظ کاهش خواهد یافت.
Complications of non Orthodontic treatment
If orthodontic treatment is not done on time and correctly, it may cause problems for the patient, these are:
It causes problems with chewing and digestion.
Due to the extra pressure on the gums, the teeth become loose.
Teeth become weak due to abnormal wear.
It can cause chronic headaches or facial pain.
Occasionally, Jaw tightness can cause breathing problems, such as breathing through the mouth.
Occasionally there is a narrowing of the jaw, a deviation in the jaw, and a facial asymmetry.
Teeth are not easily cleaned, which can lead to tooth decay and gum problems.
Occasionally there is frequent biting of the tongue or cheek due to improper pairing of the teeth.
It can cause jaw joint discomfort, which may also be associated with hearing problems.
Common abnormalities that will be treated with orthodontics.
In this picture you will see: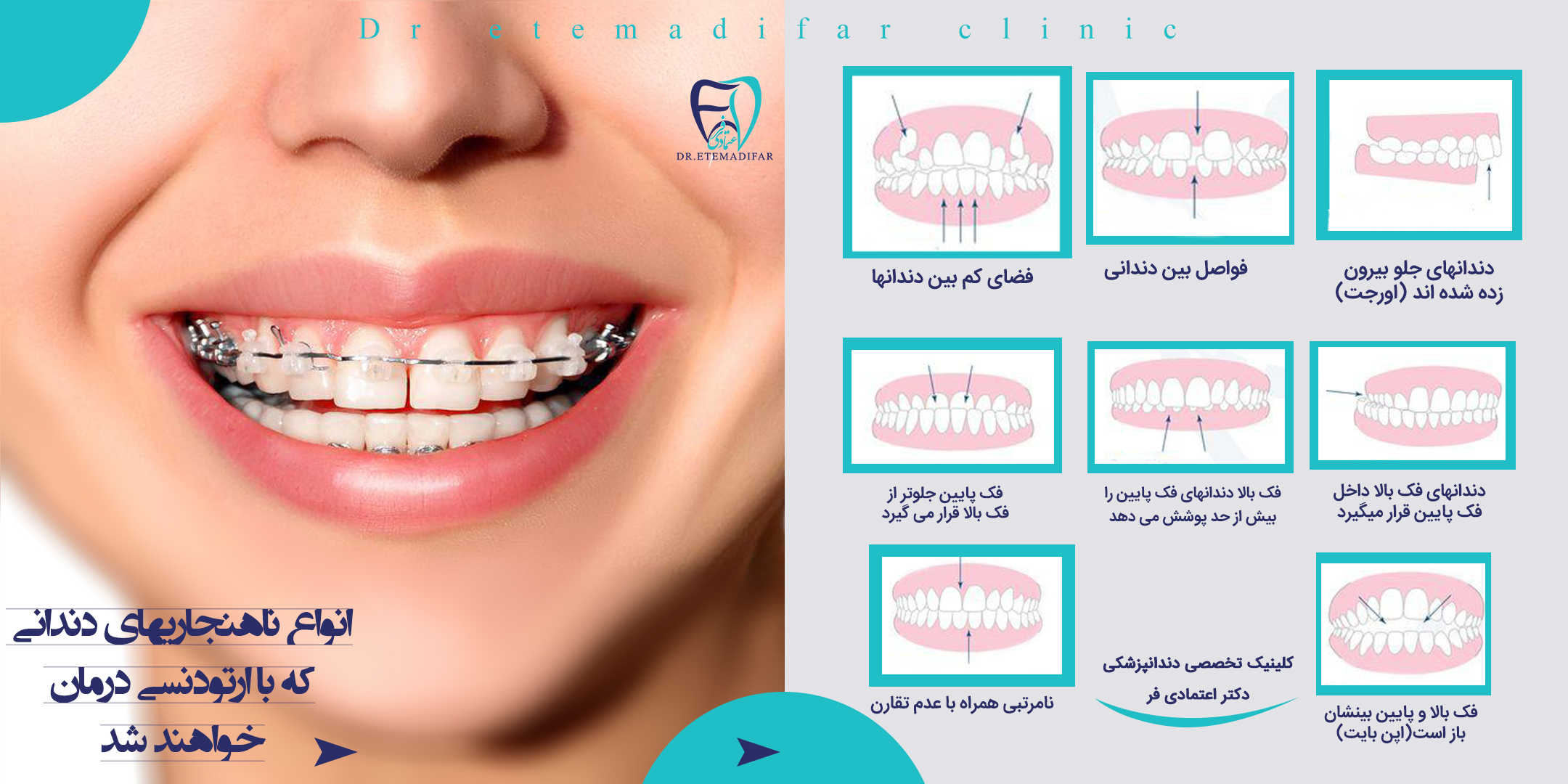 Types of orthodontic treatments:
Invisible orthodontics (using clear liners), lingual or hidden where the brackets are placed behind the teeth, and orthodontics using ceramic and metal brackets
There are many different types of orthodontic procedures.
Many dental malformations can only be treated with orthodontics. Depending on the condition and abnormality of the teeth, as well as the age and taste of the clients, their type will be selected.
Early orthodontics prevents further tooth extraction or surgery, and ultimately results in better results.
Note that children should have an orthodontic examination of their teeth before the age of seven.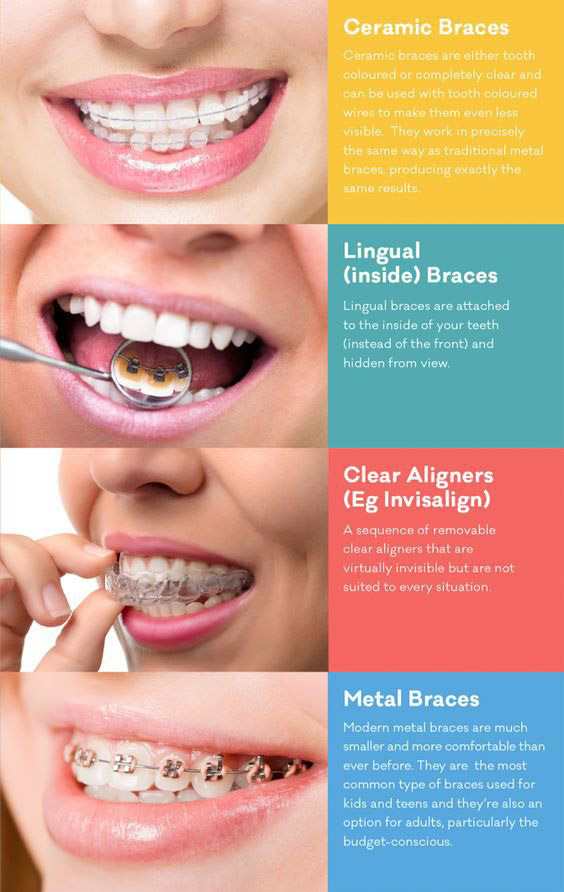 Download this PDF file of teen dental care, which is mostly about orthodontics, here.
Examples of orthodontic treatments performed at Dr. Rohollah Etemadifar's clinic here .